(PRESS RELEASE/Anoka-Hennepin Schools)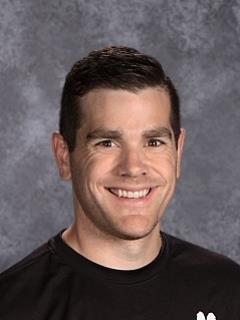 Blaine High School (BHS) science teacher Timothy Riordan has been named a finalist for the 2019 Minnesota Teacher of the Year award, Education Minnesota announced April 8.
Riordan is one of nine finalists who was selected from a group of 40 semifinalists by an independent selection panel of 24 leaders in the areas of education, business, government and non-profits.
"I keep thinking it's a prank," Riordan joked. "But seriously, it's hard for me to take credit. I've been mentored here (at BHS) really well. Everything I do — someone's taught me or encouraged me to do it. So it's hard for me to take the credit when there are a lot of deserving teachers here."
Interestingly, Riordan is a product of Anoka-Hennepin schools. He graduated from Anoka High School in 2001, and in being named a finalist, said a number of the teachers who taught him while he was a student have reached out to offer congratulations. "That's been totally surreal, hearing from my former teachers," he said. "It's been great."
And outside of former teachers, he said his colleagues at BHS and around the district have been incredibly supportive. "It's eye-opening, the genuine support I've gotten," Riordan said.
Turns out Anoka-Hennepin has never had a teacher of the year winner, despite having a number of finalists, Riordan said. "Knowing that, I almost feel like I'm representing Anoka-Hennepin in a way — that I'm representing more than myself," he said.
There were 168 Teacher of the Year candidates for this year's program, the third most in the history of the award.
In January, Education Minnesota announced that 14 Anoka-Hennepin teachers were among the 168 candidates for the award. Riordan and University Avenue Elementary School for Aerospace, Children's Engineering and Science (UAE) third grade teacher Cindy Houle were named semifinalists in February.
Riordan said he takes pride in making really good relationships with students, and that he tries to have fun in class.
"I don't take myself too seriously and I try to create an environment that's fun and kids like to come to," he said. "My sole goal is to get kids excited about doing science and being in school."
The selection panel will meet on May 4 to conduct individual interviews with each of the nine finalists and to cast votes for the 2018 Minnesota Teacher of the Year, and the winner will be announced at a banquet at the Saint Paul RiverCentre on May 5.
If he wins, Riordan will spend next year out of the classroom and instead serving as an ambassador for teachers across the state, and working with lawmakers at the capitol to enhance education in Minnesota.
"If I did win I'd be incredibly humbled," he said. "I mean, not only would I be representing Blaine and Anoka-Hennepin, but I'd be representing teachers across the state."
At the same time, Riordan said he's nervous about winning. "I preach to my students about getting out of their comfort zone," he said. "Let's say I do win — I won't teach next year. My role will be out of the classroom. To me, that's very uncomfortable. But it's also important. So it's strange."
This year's program will name the 55th Minnesota Teacher of the Year, celebrating the tradition of excellence in teaching in Minnesota. Candidates include pre-kindergarten through 12th-grade and Adult Basic Education teachers, from public or private schools.