There are two candidates running for the Anoka County Board of Commissioners in District 3. District 3 includes parts of Blaine and Spring Lake Park. You can learn more about the candidates below, or watch their debate.

ROBYN WEST: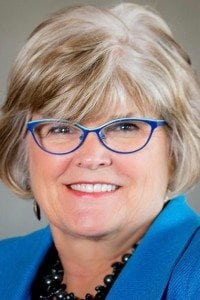 About: Commissioner West graduated Anoka High School and attended UofM.  Married with 4 sons, 3 daughters-in-law, and 6 grandchildren. West has many 'adopted' sons as former host to several students from Japan, Korea and Sweden. She is a member TPC ROSE, Rotary, and on the board of ACCAP. She and her husband of 37 years have been residents of Anoka County for over 35 years.
Commissioner West's core values include personal integrity, fiscal responsibility and commitment to community. These values are her motivation to continue serving as commissioner.
West is especially proud to have been a part of the historic accomplishment in keeping the property tax levy similar to 2010 levels.
Commissioner West served as the Team Leader in the Social Services tent for Convoy of Hope last August 1 in Spring Lake Park.
During her tenure on the board numerous major transportation projects have been completed, including this year's University Avenue and the Greater Minnesota Gateway project: the Armstrong Blvd interchange at Hwy10.
The fiscal health of Anoka County has also greatly improved over the last 6 years.
robynwest.net
http://www.facebook.com/Robyn.West.Anoka.County.Commissioner
@RobynLWest
Important Issues: Although, the economy has improved and unemployment is low, our citizens still feel tenuous about their future. Because of that, the important issues are:
Keeping taxes low and maintaining an environment where business can flourish. Businesses growing without strangling regulation and burdensome taxes produces jobs and helps to bring citizens out of poverty.
Working regularly with the Minnesota legislature to fund safe roads and bridges. Each year, we reserve millions of dollars for transportation.
Controlled spending and debt relief is of utmost importance to deliver all the services needed by citizens.
Anoka County's financial stability is crucial. Standard & Poor's, who had rated Anoka County AAA, switched their methodology to align with Moody's, which has rated Anoka AA+ for years. That change was based on the economy, demographics, jobs. We are now AA+ by Standard & Poor's. Their classification of Anoka County's financial management rose from stable to STRONG!
Goals if Elected: Continue Lean/Kaizen whenever it applies, use of technology to add to efficiencies, follow our building maintenance plan, so not to have any expensive unplanned projects. Minimize costs so our long-term assets remain in an environment that is effective for our employees to work.
Continue the progress on the Greater Minnesota Gateway, address at-grade rail crossings for safety, complete scheduled road projects. This will require the use of solid relationships I have with Anoka County delegation in the State and Federal governments. Transportation projects are high priority, as they are the beginning of economic development!
Continue to use the innovative skills of our employees in human services to  effectively help our citizens in need of services.
Continue keeping taxes low, reducing debt, thus keeping our new and existing businesses who have committed to estimated $37 million in new capital investments, along with an estimated 1026 jobs.
Endorsements:
Speaker of the House, Kurt Daudt
Representative Tim Sanders
Jason King, Blaine City Councilman
Mike Bourke, Blaine City Councilman
Russ Herbst, Blaine City Councilman
Dave Clark, Blaine City Councilman
Wes Hovland, Blaine City Councilman
Cindy Hansen, Mayor of City of Spring Lake Park
Ken Wendling, Spring Lake Park City Councilman
Bob Nelson, Spring Lake Park City Councilman
Gene Rafferty, resident of Spring Lake Park
NYLE ZIKMUND: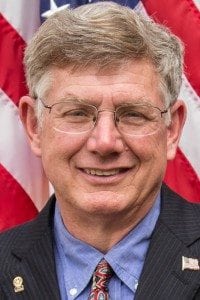 About: A lifelong resident of the Blaine/Spring Lake Park community, Zikmund has been a public servant, community leader, educator, author, Rotarian, volunteer firefighter, Fire Chief, and successful businessman for more than 30 years. Nyle and his wife, Terri, are the proud parents of 8 children, son Maddison, and 7 exchange students.
He graduated from Blaine Senior High School in 1976, earned BS Degrees from the University of Wisconsin – Stout and University of Cincinnati as well as a Master's in Public Administration from Hamline University.
From 1982 – 1994 he served as a volunteer fire fighter, serving the communities of Spring Lake Park, Blaine, and Mounds View. Meanwhile, Zikmund spent his days managing a manufacturing facility that specialized in the fabrication of medical and physical therapy furniture.  He also co-founded two custom woodworking operations, Oakcraft Cabinets and Spectrum Fixtures.
In 1995, Zikmund was hired from a national filed of 45 candidates to become the Chief of the SBM Fire Department serving until May of this year.
He has served on more than a state and national dozen boards, is an adjunct instructor at Hamline University, and along with his wife Terri; currently own and operate Fire Services Consulting, which provides professional association management.
Important Issues:
Transportantion
Business/Economic Development.
Efficiency in Government – measurable value for your taxes,
Public Safety Issues
Being a champion of Blaine and Spring Lake Park (Blaine is now the largest city in Anoka County).
Restoring bond rating.
Transparency in decision making and budgets including reserves.
Transportation is number one given the current gridlock AND, MN DOT's 5, 10 and 20 year plan has no funding for any improvements on Highway 65 including the intersection at 109th.  Blaine residents face a $3.5 million bill to rebuild 105th Avenue after Anoka County returned the road to the City of Blaine absent sufficient funds to rebuild.
Business and Economic growth will only follow transportation infrastructure, we need to make investments in our roads – building new where justified and maintaining those we already have.
Visit my web page at www.zikmund4acc.com for full details on all issues.
Goals if Elected: I have door knocked nearly 2,000 homes and find few people who know who their county commissioner is or what they do.  When I share that the county budget is over a quarter billion dollars, there are 1,800 employees, and it is almost 1/3 of their property tax people are either shocked and/or surprised.  My goals include; being approachable, accountable and accessible.
You will know who your County Commissioner if I am elected. I have lived my entire life here, started businesses here, served on the fire department for 35 years, and am an unapologetic fan of this community.  I will serve you with a passion.
It's not about less government, if that is the goal simply eliminate services. It has to be about better government.  People say government should run more like a business.  This is a BIG business.  We need proven business leaders to manage it.
Endorsements: 
Dave Johnson-Retired Blaine Police Chief
Pat Miller – Blaine Resident and Blaine Business Owner – Pat Miller Construction
Jim Sunderland – Blaine Resident and Blaine Business Owner – T-Ray Construction
El Tinklenberg – Former Blaine Mayor and MN Commissioner of Transportation
Tom Ryan – Blaine Mayor
Al Goracke – Blaine Resident, Pastor,
Local 49 – International Union of Operating Engineers
Mike Kohout – Spring Lake Park Resident and Business Owner – Central Chiropractic
Anthony Scavo – Spring Lake Park Resident and Business Owner – S & S Hardware Solutions
Chuck McQuillan – Spring Lake Park Business Owner – Berins Mortgage Company
Doug Boorman, Brian Wamsley & Paula Wamsley – Troop 415 Scoutmasters/Adult Leaders
Alice Johnson – State Senator
Jim Kuempel – Blaine Resident (former SLP) and Business Owner – Midwest Fire Protection
Carol Donahoe – Blaine Resident
John Baruth – Blaine Business Owner – Diesel and Automotive Imports
Steve Novak – Former State Senator
Mary Lou Box – Spring Lake Park Resident and Blaine Business Owner – The Flower
Jeanne Mason – Spring Lake Park Councilmember
Bill Nash – Spring Lake Park Councilmember
Kevin "Bob" Reif – Retired Spring Lake Park High School Teacher
Jeremiah Anderson – Blaine Resident and Business Owner – J & B Inspection Services
Tom Brace – Retired State Fire Marshal