In 2022, the candidates for Anoka County Attorney are: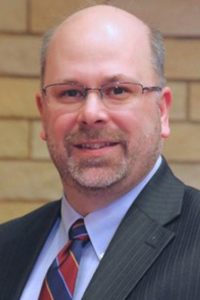 About the Candidate: Brad grew up in Anoka and graduated Anoka Senior High in 1988. He is married to Daisy, a Staff Sergeant in the Minnesota Air National Guard, and they have two children attending St. Stephen's Elementary School. Brad has served two terms on the Coon Rapids City Council, while also serving as an Assistant County Attorney as both a felony prosecutor and child protection lawyer in Hennepin County, handling some of the most serious physical and sexual abuse cases involving child victims.
Together with the Sheriff, the County Attorney, and the county's police chiefs, Coon Rapids appointed Brad to be its representative on the Anoka County Joint Law Enforcement Council. Brad has also served as the secretary on the city's HRA and as a member of the Anoka County Fire Protection Council.
Before becoming a prosecutor, Brad was a business trial lawyer at two national law firms representing major corporations, family businesses, and individuals in disputes in state and federal court. He has handled thousands of cases over 24 years in practice. He is known as a firm, but fair lawyer who is always prepared. Brad has the deepest and most diverse experience of any candidate for this office.

Important Issues: Among others, some of the top issues for the County Attorney are the following:
1. Improving public safety by vigorously prosecuting "livability crimes" that impact families and communities, such as car jackings, highspeed chases, sex trafficking, child abuse, and the exploitation of the elderly and vulnerable, among others;
2. Ending bad policies and practices in the County Attorney's Office that ignore criminal activity, and plea deals that allow adult rapists to escape predatory offender registration;
3. Improving strained relationships between law enforcement and the County Attorney's Office by assigning specific prosecutors to be liaisons to improve communication;
4.Improving the office culture, pay, and benefits to recruit and maintain professionaltalent, so that staff have less incentive to leave the office; and
5.Improving collaboration with the community, business partners, and our criminaljustice partners through a Citizen's Advisory Committee for the County Attorney toconsult on important local issues.
Goals if Elected: Brad's primary goal is to implement the priorities in his "Criminal Justice 2030" plan set forth on his website. www.BradForAnoka.com/vision. The issues described above are among those priorities.
It is equally important, however, for the County Attorney to engage more proactively with the community, listening most to the concerns and views of Anoka County, rather than being influenced by other county attorneys or outside interest groups.
The Anoka County Attorney is nonpartisan and must, on the one hand, provide excellent advice and service to the County Board and all the county departments and, on the other hand, must be a firm, but fair prosecutor for all felony and juvenile crime in the county. The Anoka County Attorney's Office must do a better job supporting its local law enforcement. The office must also strive to be a model for other county attorney's offices in Minnesota. Brad asks for your support.
Endorsements:
Anoka County Sheriff's Office Licensed Deputies, Local 222
Coon Rapids Professional Firefighters, Local 1935
Tom Gagnon, Former Anoka County Sheriff Candidate and Police Officer in Anoka County
Minneapolis Building Trades and Construction Council
Jerry Koch, Coon Rapids Mayor
Sheri Bukkila, Andover Mayor & Sergeant / Law Enforcement Supervisor in MN
Steve Wells, Chief, Coon Rapids Police Department (Retired) & Former Coon Rapids City Councilmember
Jeff Weaver, Anoka City Councilmember
Ken Wendling, Spring Lake Park Council Member
James Hill, Fridley Police Chief/Public Safety Director (Retired)
Bryan Platz, Police Officer in Anoka County
Ed Dols, Vietnam Veteran, Ham Lake
Jerry Teeson, Retired Business Leader and Vietnam Veteran, Coon Rapids
Phil Rosar, Business Owner and Vietnam Veteran, Coon Rapids
Dale Wills, Business Leader, Ramsey
Connect with Me:
Website: www.BradForAnoka.com
Email: AnokaCountyAttorney@gmail.com
Phone: 612-388-6595
Facebook: Brad Johnson For Anoka County Attorney
Candidate Interview: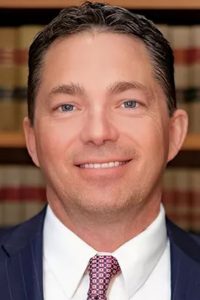 About the Candidate: I am 51 years old, and live in Centerville with my wife Shawna, and our daughters Gianna (6), and Mila (4).  I'm an honors graduate from Brooklyn Center High School (89), an honors graduate from the University of MN-Duluth (96), and the University of MN Law School, perennially ranked in the top 20 law schools in the US.
I've worked my entire life, including at the Federal Prison Camp in Duluth, as a Wildland Firefighter in the Western US, and as a prosecution intern in the St. Louis County Attorney's Office.  My prosecution career officially began in the Mille Lacs County Attorney's Office, where I spent 4 years as a Violent Crime Prosecutor.  Since 2003, I've been a prosecutor in the Violent Crime Unit of the Anoka County Attorney's Office.  In 2015 I was promoted to Criminal Division Operations Manager, and in 2019 was promoted to Criminal Division Chief.
Over the past 24 years, I've personally handled nearly 5,000 violent crimes and had a role in another nearly 15,000 as a supervisor.  I also have extensive experience handling police officer use of force/misconduct cases – and I do so affording officers the presumption of innocence, which has unfortunately been forgotten elsewhere.
Important Issues: In these challenging times, with crime on the increase and law enforcement under attack, it is more important than ever that the Anoka County Attorney be a career prosecutor.  Anyone can claim to be a prosecutor, but the volume and type of cases I have handled far surpasses any candidate in any race across Minnesota.
The new County Attorney needs to hit the ground running on Day 1; I can do that given the relationships I've built serving the entire County (not just one portion) the past 19 years.  It's also vital that the County Attorney have management experience, as the ACAO is the largest law office in the County. I am the only candidate with this experience.
Law enforcement needs the support of the County Attorney.  Just one example of this is a protocol I've created mandating a higher level of review for assaults against officers and fleeing cases.
Goals if Elected: Maintain the Intensive Enforcement protocol I created for higher review/zero tolerance on assaults against officers and fleeing cases, which have seen an exponential increase in the past 2 years.
Establish more comprehensive human trafficking investigative and prosecution responses.
Continue the work of an Auto Theft grant I assisted in obtaining, which gives us a full-time prosecutor to specialize in Carjacking, Auto Theft and Catalytic Converter theft.
Ensure that Pre-Charge Diversion does not return to Anoka County, advocated by some.  Felony-level conduct should not be diverted at this stage, and the recidivism rate was unacceptable.
Continue the pioneering work that has been done by the Anoka County Attorney's Office on Elder Abuse awareness and prosecution.
Work with County Administration on issues related to recruitment and retention of staff.
Maintain relationships with the business community to ensure that Anoka County remains a place where business can flourish, which starts with public safety.
Endorsements:
Tony Palumbo, Incumbent Anoka County Attorney.
Pete Orput, Former Washington County Attorney.
Andy Revering, Former Anoka Police Chief.
Denise Demars, State Fire Marshal's Office (ret.)
Jerry Streich, Former Ramsey and Andover Fire Chief (ret.)
Shelly Orlando, Former Commander, Anoka County Sheriff's Office, Justice Services Division (ret.)
Bryon Fuerst, Former Commander, Anoka County Sheriff's Office, Criminal Investigation Division (ret.)
Tim Henderson, Lino Lakes, Crime Victim.
Connect with Me:
Website: www.wadekish.org
Facebook: Wade Kish for Anoka County Attorney
Email: wade@wadekish.org
Candidate Interview: