Sports Director
Contact Kenton: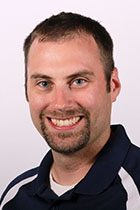 kenton@northmetrotv.com
(763) 231-2802
Employed Since:
1999
College:
Brown College
Degree:
Television Broadcast
High School:
Centennial H.S.
Current Residency:
Andover
NMTV Duties:
Producer and host of Sports Den
Directs mobile truck productions
Head of the Sports Department
Little Known Facts:
Has a wife named Allison, a son named Noah and a daughter named Hannah.
Enjoys spicy foods full of flavor and fun
Played football, basketball, and tennis in High School
Favorite Sesame Street character is Guy Smiley
Has never eaten anything bigger than his head in one sitting.
(Update 2/2/11…forget that last one.)
Enjoys sports and television so this is a dream job.