(COON RAPIDS – June 1, 2021) – Bunker Beach, Anoka County Parks' signature attraction, officially re-opened Tuesday to fanfare and a demonstration of the new, heated wave pool.

The entire County Board of Commissioners was on-hand for the ceremonial ribbon-cutting at the 33-year-old facility, which remained closed last year due to the COVID-19 pandemic. The county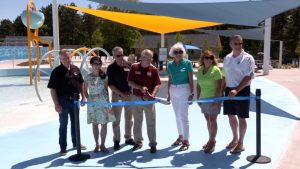 decided to move forward with a $6.5 million improvement project.
"We started recognizing structural failures in the wave pool and we literally had pieces of concrete that were starting to fail," said Anoka County Parks Director Jeff Perry. "This is a welcome, feel-good opening for Bunker Beach."
Perry said the heated wave pool ought to correct a problem many guests have, particularly early in the season most summers.
"Of course, the rest of the park features are heated, but that's typically one of the primary complaints we receive from our guests–(they) go to the wave pool in June, it's ice cold," Perry said. "It feels like the Mississippi River, Rum River, Lake George, and this 80-degree temperature is definitely going to be great for the kids and great for everybody that uses it."
Perry said the water park is nearly fully staffed with lifeguards. He said they typically hire up to 60 for the season, and right now there are closer to fifty on board. He said the county has upped the hourly pay to more than $13 an hour to try to entice more people to apply. He said the staffing levels will not prohibit the park from opening this weekend, when temperatures are forecasted well into the 90s.