(HAM LAKE – May 24, 2022) – Ham Lake has a new mayor, only months before Election Day.
Mike Van Kirk, who was in his third term, resigned as mayor at a special city council meeting Monday night.  Van Kirk confirmed to North Metro TV News that he was moving out of the state of Minnesota in support of his career as an airline pilot. He said it was not a secret to many at city hall, and he wanted to make sure city council had time to act accordingly.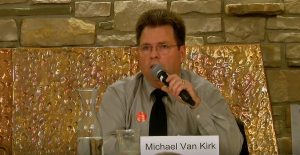 Council voted to name council member Brian Kirkham as interim mayor.
Van Kirk's term ends at the end of this year.
City Administrator Denise Webster confirmed the move Tuesday morning, and said it's up to council to fill the vacant spot on the panel, which she said could be decided at the next meeting in June.