(LINO LAKES – April 12, 2022) – Lino Lakes Public Safety has hired seven people to serve as part-time paid duty crew firefighters to help bring down response times during weekday hours.
City council gave approval to the plan on Monday night. This comes after many months of searching for solutions to rising demand for calls–especially during regular business hours, when many volunteers are at work and can't respond–and talks to partner more with surrounding fire departments went nowhere. This also follows acknowledgment that the city's plan for cross-trained fire and police officers wasn't working; many police officers said they were not interested in serving dual roles.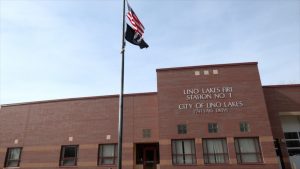 All seven new firefighters–six men and one woman–have completed Firefighter 1 & 2 and hazardous materials training and certification, according to Public Safety Director John Swenson.
The new firefighters will begin work on May 2.
At the same meeting, council approved the promotion of Lt. Jesse Fronek to the rank of paid on-call fire district chief. He has been with the department since 2017. Former On-Call Fire District Chief Brian Finke was recently promoted to full-time fire lieutenant for the city.