(LINO LAKES) – In a letter recently to various community stakeholders, leaders with YMCA of the North promised to vacate the dormant Lino Lakes facility by March 1.
This follows a series of moves to render the once-popular site virtually inert in the wake of gyms shutting down because of COVID-19 operating guidelines and restrictions.
This summer, the Y announced the Lino location was among those it would not re-open once the government lifted restrictions, citing financial challenges.  That left the City of Lino Lakes, among many other partners, looking for answers.  City leaders believe the fitness center to be a key amenity to the growing community in eastern Anoka County.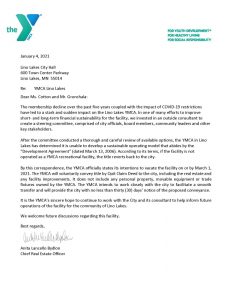 In the letter, Y leaders say they provided the means for a steering committee to research possible future uses, and as a result, "the YMCA in Lino Lakes has determined it is unable to develop a sustainable operating model," and it will vacate the 15-year-old building by March 1.
The City of Lino Lakes owns the land and helped finance the building with the understanding that the Y would operate a fitness center there, which it did for well more than a decade.
Last month, the city announced its own feasibility study to try to find ways to use the building. That study is scheduled to wrap up in March.