In 2018, Anoka County voters will elect a Sheriff. There is one name on the ballot: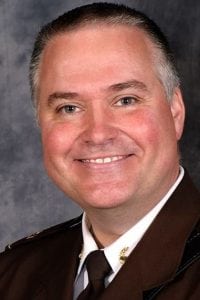 About: James has been married to his wife, Lisa, for 29 years and they have 3 children.  They reside in Andover and are very active as a family in their church and in the community.
James is a graduate of St. Mary's University and the 102nd session of the National Sheriff's Institute.  He was first elected in 2010 and is active with the Minnesota Sheriff's Association as an Executive Board Member and represents law enforcement on multiple committees.  He is also active on the national level with the National Sheriff's Association as a Member of the Board of Directors, a member of the Domestic Violence & Crime Services Committee, Youth Programs & Juvenile Justice Committee & Global Policing Affairs Committee; he is a Member of numerous other task forces and associations on the regional, state and national levels.
He was awarded the "MAGNUS Princeps Leadership Award" by The National Command & Staff College and the Criminal Justice Commission for Credible Leadership Development.
James was also nominated for "National Sheriff of the Year" and was awarded the Medal of Merit by the National Sheriff's Association in 2015 and 2016 for his contributions to the community and to the field of criminal justice.
Important Issues: Sheriff Stuart remains committed to battle against opiates and other drugs; to ensure school safety; to combat human trafficking; to safeguard our elders; to fight domestic & sexual violence and to pursue collaborative partnerships that aid our communities in developing creative solutions.   Sheriff Stuart has been recognized for being on the forefront of these issues with his innovations, service and outreach in each of these areas.
He remains steadfast in his pursuit of programs that benefit our youth, community partnerships and public safety services that exceed expectations.
Goals if Elected: Sheriff Stuart will continue to lead the sheriff's office team of professionals as they work together to tackle the public safety issues facing our entire county every day.
He will remain committed to providing the best possible services to the citizens that he proudly serves as he actively participates in numerous collaborative & outreach efforts.  It is his belief that by working together, we can make a difference.
Sheriff Stuart will also continue to pursue innovation & technology to creatively combat crime while proudly serving our citizens.  His past leadership demonstrates his future goals- to maintain the tradition of excellence by providing services that exceed expectations.
Endorsements: Sheriff Stuart is not actively seeking endorsements
Connect with Me: 
Website: www.StuartforSheriff.com
Facebook: Sheriff James Stuart
BLAINE
CENTERVILLE
HAM LAKE
LEXINGTON
SPRING LAKE PARK
ANOKA COUNTY
MINNESOTA HOUSE
U.S. HOUSE OF REPRESENTATIVES
CENTENNIAL SCHOOL DISTRICT