In 2018, voters in Spring Lake Park will elect two city council members to serve four-year terms. The candidates are: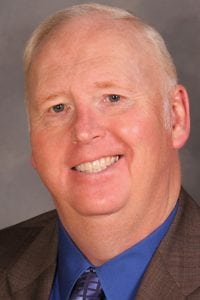 About: I am running for City Council for the City of Spring Lake Park.
I was born and raised in McHenry, North Dakota. Iattended North Dakota State College of Science where I received a degree in Electronics Technology.
I have been married to my wife Kelly for 39 years.  We have 4 adult children, Bill (Leslie), Amy (Joe), Kerry (Ryan), and Byron. We also have 2 grandchildren.
My family and I are members of Abiding Savior Lutheran Church in Moundsview.
I am employed at Optum, where I'm an IT manager of the Network, Automation and Print Services team.
Prior to 2016,I served as a commissioner on the Spring Lake Park Parkand Rec Commission for 10+ years.I was a softball coach for 10+ years in the Spring Lake Park summer softball program, and also served for 5 years as a coach in the Spring Lake Park Traveling Girls Basketball program.  I was appointed to city council in December of 2016 to serve out the remainder of Jeanne Mason's term.
My hobbies include fishing, hunting, reading, and spending time with my family.
Important Issues: Since Spring Lake Park is a small, inner ring suburb, there's really not much room for future development.  Approximately 20% of Spring Lake Park is tax exempt because of the number of schools and churches located there.  We have to be ready to take advantage of every opportunity to bring business and commercial entities into our city so that our residents' tax bills are kept at a reasonable level.
Goals if Elected: Continue to foster a strong relationship with ISD 16 by coordinating programs as well as park and field resources.  Continue to build on an already strong Park and Recreation program schedule.  Even though Spring Lake Park is small, it has wonderful parks and strong programs for all of its citizens.  Continue to support projects within our city boundaries that will provide a good quality of life for current and future residents.
Endorsements: Spring Lake Park Park and Rec Commissioners
Connect with Me: 
Email: bradd_bdog@comcast.net
About: Life long  resident of Spring Lake Park  and graduated from SLP HS.
Veteran US Army
47 yeas as Dental Lab Tech with a decade with cross time as as Shoe Repair Tech  a cobbler if you wish, Mpls Tech School
Boot and Shoe making schools
Park and Rec commissioner
Past 4 years SLP council
Park ad Rec Liaison
Attend some the of Kids Base ballgames in our parks ,works the concession stand at end season Tournament in July
Patrolman and Sargent Union negotiation commission
Fort Spring Lake Park  Beyond the Yellow Ribbon – Deputy Chair
Tower Days planning committee, also works at our event at Lakeside Park
Election Judge for our city
Important Issues: Development and Redevelopment or Spring Lake Park is very crucial for our city such as Hy Vee and the Legends of Spring Lake Park were excellent additions. 525 Osborne Rd  land being given to the city from Unity Hospital Board that is no longer going to exist after Mercy – Unity  Hospital became one.  I would like a commercial business to fit in that spot and bring in revenue for the city 8036 Buchanan St  and adjoining land has commercial development coming in near future  All this being  responsible and  a fiduciary of our funds
Goals if Elected: Did not respond
Endorsements:
Mayor Cindy Hansen
Council Bob Nelson
Council Brad Delfs
Anoka County Commissioner Robyn West
Connect with Me: 
Facebook: Ken Wendling for Spring Lake City Council
Phone: 763-784-1936
Email: wendlingken@gmail.com

BLAINE
CENTERVILLE
HAM LAKE
LEXINGTON
SPRING LAKE PARK
ANOKA COUNTY
MINNESOTA HOUSE
U.S. HOUSE OF REPRESENTATIVES
CENTENNIAL SCHOOL DISTRICT