In 2020, voters will elect a state senator from
District 38
. The candidates are:


About the Candidate: Did not respond
Important Issues: Did not respond
Goals if Elected: Did not respond
Endorsements: Did not respond
Connect with Me: Did not respond
Candidate Interview: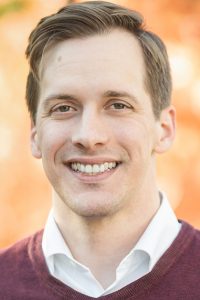 About the Candidate: I live in White Bear Township with my wife Marissa and our two young children, Freddy and Verity. I have spent my career advocating on behalf of workers, rural communities and small businesses.
At the BlueGreen Alliance I develop policies that will harness the power of the green economy to protect the environment and create good American manufacturing jobs that are here to stay. Previously I advocated on behalf of rural communities at the state capitol, helping secure investments in economic development, transportation and public safety. I also spent several years at the Department of Revenue leading teams in developing legislative proposals to create a fairer and simpler tax code for businesses. As an advisory board member of the Minnesota Main Street Alliance I have advocated alongside small business owners at the Capitol.
I've made a living bringing folks together across political lines to pursue common-sense public policy that creates opportunity for Minnesotans and now I want to use that experience to work on behalf of my friends, family and neighbors in Senate District 38.
Important Issues: 
• COVID-19: The state's management of the public health response to this crisis remains a major concern of voters.
• Economy: Residents across the district have lost jobs and the small businesses that power our communities forward have faced significant hardships.
• Schools: Our public schools are central to the vibrancy of the communities across Senate District 38 and strengthening the investments we make in them is important to residents across our district, particularly now as they face the challenge of adapting to the pandemic.
• Healthcare: Because of the economic turmoil of this crisis, many families are losing access to health coverage and those that are still covered are confronted with skyrocketing costs.
• Racial Equity: In the wake of George Floyd's murder, residents across our district have become concerned with the inequities confronting our neighbors of color.
Goals if Elected: Among my top priorities will be:
• Ensuring that as we confront significant budget challenges, we protect the critical investments we make in schools, healthcare, and tools to protect our environment and public health.
• Building an economic development agenda that prioritizes the needs of small business owners and entrepreneurs, including minority-owned businesses, so that we can rebuild our economy in a way that creates opportunity for all.
• Reforming our healthcare system by providing for a MnCare buy-in, taking steps to reduce the cost of prescription drugs such as cracking down on price gouging, and implementing increased transparency and controls to reduce the cost of hospital care.
• Reforming our broken tax code so that tax relief is directed to working families and seniors not just those with well-paid accountants and attorneys.
• Finishing the work that was started to strengthen environmental and public health protections following the pollution issues at Water Gremlin in White Bear Township.
Endorsements
AFSCME Council 5
Teamsters Joint Council 32
SEIU Minnesota State Council
Minnesota AFL-CIO
St. Paul Regional Labor Federation
Minneapolis Regional Labor Federation
Run for Something
Planned Parenthood
Northeast Metro Climate Action
Protect Minnesota
United Steelworkers
Education Minnesota
Sheet Metal, Air, SMART-TD Minnesota
Governor Walz and Lt. Governor Flanagan
Connect with Me
Phone: 612-594-1252
Email: info@justinstofferahn.com
Facebook: Justin Stofferahn for SD38
Twitter: @justinfor38
Website: www.justinstofferahn.com
Candidate Interview: